We want to develop our role as a global food company that adds value to people's lives through natural nutrition and responsible operations.
In order to succeed, we will:
• Excel in eight dairy categories
• Focus on six geographical regions
• Win as one united and efficient Arla
Excel in eight dairy categories
We have matched our own strengths in the dairy categories to the consumer needs we see globally. This has led us to identify growth opportunities on a global or regional scale in eight categories. In these, we want to excel with innovative products, a world class supply chain, compelling marketing and strong partnerships with our customers. The prioritised categories and our ambitions for them are:
Milk and powder: We want to lead and shape the market with nutritious value-added products.
Milk-based beverages: We want to shape the market for on-the-go products that are made from natural ingredients.
Spreadable cheese: We want to be a leader with both cream cheese that is made from natural ingredients and high quality processed cream cheese.
Yogurt: We want to build a strong position that is based on health benefits and natural ingredients.
Butter and spreads: We want to be a global leader with world class products made from natural ingredients.
Speciality cheese: We want to be a leading player with creatively crafted products and concepts.
Mozzarella: We want to create a global foodservice position with high quality mozzarella.
Ingredients: We want to be the global leader in value-added whey.
We will grow the categories through our three global brands: Arla®, Lurpak® and Castello®.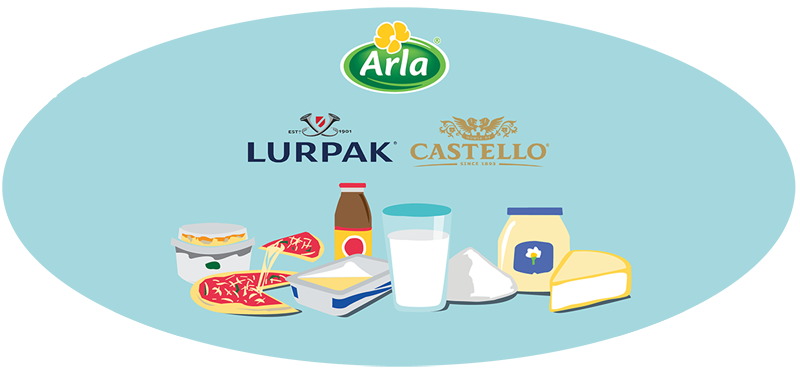 Focus on six regions
We will focus on six regions in which we believe Arla has the greatest potential to grow a long-term profitable business for our farmer-owners.
Over the years Arla has built a strong position in Northern Europe where we are the preferred dairy company for consumers, and the Middle East where our brands are among the strongest in the food industry. We will continue to build on these market positions as we also develop our business in four other regions and China, Nigeria, USA and Russia as our main focus markets.
Towards 2020, we expect 50 per cent of our growth to come from Europe. The other 50 per cent will come from the regions outside Europe.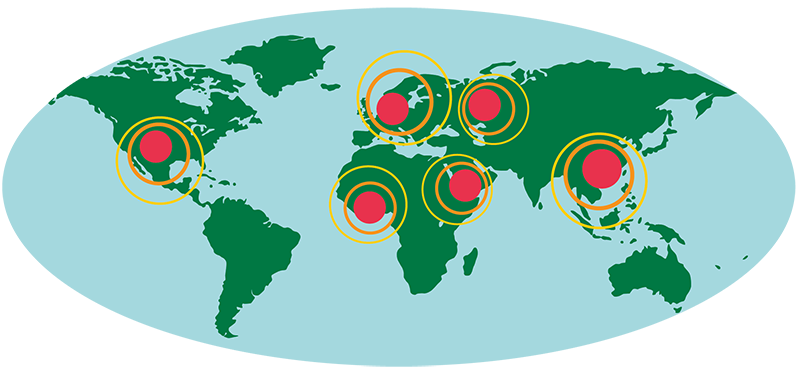 Win as one Arla
Over the past years Arla has grown significantly in Europe with no less than six mergers in Central Europe, the UK and Sweden. We have been aligning the different companies into one and harvesting the synergies that the mergers created. We will now take this unity to the next level.
We will strengthen our global category and brand building, our innovation across borders and our commercial excellence. Our marketing will become more global, improving the spend effectiveness, and we will drive more radical innovation across our six regions.
Our entire supply chain will be even more efficient as we will establish one European milk pool to ensure a more holistic use of our milk across the Arla group. Overall, we have set a new ambitious cost improvement target of EUR 400 million to be reached by the end of 2019.